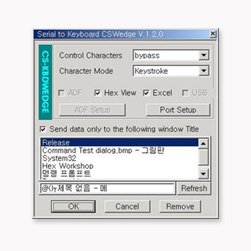 OEM/ODM Solutions >
CSWedge
Software Keyboard Wedge
CSWedge is a software keyboard wedge converter.
Which converts data from either RS-232C or USB port into keyboard input and transfers them to target application Program.
CSWedge is displayed on system tray of PC.
CSWedge gets active and is displayed on the most upper part of window, once data is input, even though it is not seen on window by other application programs or it is minimized on window.
All application programs used on PC are displayed on List Box. User can select the application program on which user wants decoding data to be displayed, on List Box by double clicking on it.